<Back to all kitchen door ranges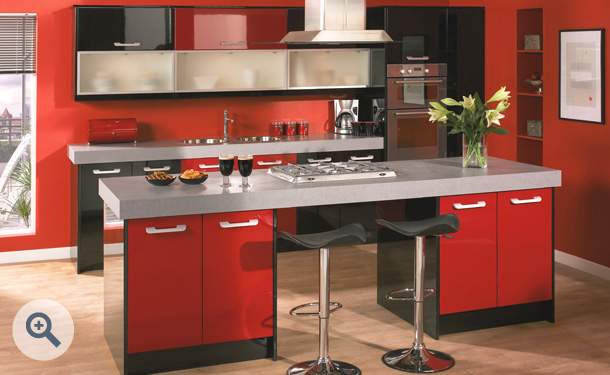 Premier Duleek design in High Gloss Red and High Gloss Black
Modern styling and high quality are the hallmarks of the stunning high gloss kitchen door range. Beautifully finished High Gloss Red and High Gloss Black Duleek doors with the highest quality handles. The sheer elegance of the Duleek in High Gloss range would suit all homes from city apartment to family living.


Choose a kitchen door or drawer size and the price will appear below.
You can even work out the price for custom sized kitchen door and drawer fronts.
Premier Duleek design drawer fronts in High Gloss Red and High Gloss Black start at just £8.97.
< Change for custom sizes
< Choose a size to view the price
As you can imagine it would be impossible to completely capture the colour, quality and texture of any particular finish on a website. The finishes on this website should be only be used as a guide, especially as colours can be rendered differently depending on the type of monitor. For this reason Homestyle happily post free samples of the actual material that is used to make kitchen doors, drawer fronts and accessories.
Click the button to request a free large sample swatch of
High Gloss Red and High Gloss Black.
Sample doors are a great way to ensure you know exactly how your new kitchen will look. Web based images sometimes do not give a completely accurate portrayal of the door, so once you have decided on the door design and finish you like, it's a good idea to order that sample. Homestyle charge just £12.00 inc P+P. for a full sized sample door.
We will refund the cost of up to three sample doors when they are returned.
Click the button to purchase a Sample
Premier Duleek design door in the High Gloss Red and High Gloss Black finish.
Who we've been recommended by...
Please note: our Wigan Showroom is currently undergoing renovation.
You can still visit to place an order / collect an order but there will be limited ranges on display until the end of August 2018.
© 2018 Homestyle Kitchens. All rights reserved. E+OE